Once again, another superb, engaging, sharp issue of Numéro Cinq is in the books. Spring is here, and like rabbits, the number of wonderful works between our virtual covers just keeps multiplying.
In her apologia, "Why Do We Write?" Genese Grill writes:
Now that people read so little it is even more difficult than ever to measure the "use" or benefit of writing (leaving aside for just a moment the all-important  non-utilitarian aspects of writing). We might even ask why, if writing is efficacious, it has not succeeded in ensuring a practicable love of reading in our society, where, apparently, the average person reads but one book a year—at most. If we really want to change the world, if we really want —indeed, even in a maligned Enlightenment tradition—to inspire reform, reach people, impart urgency, does writing a book make sense?  Who will read it? What will it do? Won't it just be ignored?
Victoria Redel
Victoria Redel, in her terrific talk with Jason Lucarelli, says:
When I began to write fiction I discovered, in a wholly new way, possibilities within the sentence. I discovered the joys of syntax. This seems ass-backwards; I should have found syntax first as poet. It seems that it was simply developmental, I was at last seeing what the music inside a sentence, the intelligence inside a sentence, the personality within the sentence might be.
Robert Coover
And the always astute Natalie Helberg, in her review of Robert Coover's The Brunist Day of Wrath, determines:
Though The Brunist Day of Wrath has a realist quality uncharacteristic of some of Coover's other work, it nevertheless preserves a drive toward narrative playfulness and the absurd.
Seamus Heaney
The brilliant Patrick Keane presents, in his lovely essay on Seamus Heaney:
When North appeared, in 1975, it was greeted enthusiastically by major critics as varied as Helen Vendler, Conor Cruise O'Brien, John Jordan, and Christopher Ricks. But strong reservations, politically-related and having to do with Heaney's use or alleged misuse of archeology and myth, were expressed by Ulster writers Edna Longley and Ciaran Carson, among others. The hostility of some poets and critics in Northern Ireland was influenced, or at least complicated, by the fact that Heaney had left his native province in 1972, just as the sectarian conflict was intensifying.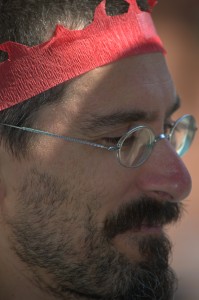 D.M. Spitzer
Speaking of remarkable essays, D.M. Spitzer's "Mythology," itself a response to Ralph Angel's "The Exile and Return of Poetry," unfurls with both comfort and intensity:
Into the labyrinth unwind thread. Poetry is labyrinth, but a poem takes flight from the surrounding walls. Ikaros too with wings of syllables and breath lifts himself out of the sanctuary's enclosure unto the bright morning air, the island's craggy shoreline diminishing. Into the open.
But that's not all! Richard Farrell reviews Lorrie Moore's new collection, Bark. Summar West reviews Leslie Ullman's Progress on the Subject of Immensity.
Julie Larios
Julie Larios stuns with five marvelous poems. Ian Bell presents an audio/textual feast with "Signor Farini." And Shawna Lemay's "The Flowers Can Always Be Changing" entrances with elegant photos and equally powerful words.
Nuala Ní Chonchúir
Uimhir a Cúig bestows NC with the gorgeous prose of Nuala Ní Chonchúir with her story, "Tinnycross." And Brendan Riley translates Álvaro Pombo's Where the Women, of which we offer an excerpt.
Oh, and we have so much more in this issue!
Gore Vidal is covered by Jacob Glover, R.W. Gray gives us yet another spectacular edition of NC at the Movies, and Robert Day's novel CONCLUDES—after eight sections! Then there's the short fiction of André Narbonne, the poetry of John B. Lee, and the poems and painting of Elaine Handley and Marco Montanari. My God, that's a fantastic collection of work!
And so April comes to a close.
— Benjamin Woodard