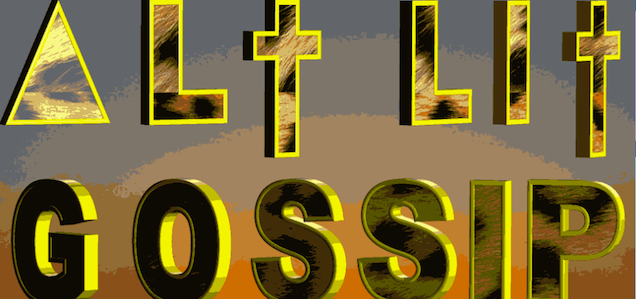 I don't know why I am always the last to know about these things. Bruce Stone just told me about the background to the recent demise of HTMLGiant. I've been paying too much attention to the Jian Ghomeshi scandal in Canada. And the news here is old.
The only gossip around NC is about things like Rich's dog Petunia throwing up or the meme jokes about the Talisker locker. We are such a tame bunch. One of our writers used to have purple hair and wear a spiked dog collar, but he is in law school now. Another used to post links to his NC pieces on his dating site profile. Nepotism. We have nepotism, several parent and child writers/artists, sometimes contributing separately, sometimes together. Brothers. Even my mother has been in the magazine! Gawker, check us out.
We also don't have a cool genre name. Alt lit.
We're going to have to do better.
dg
Alt lit is caving in on itself. After a week of multiple rape and abuse allegations against prominent authors and editors, the earnest, internet-obsessed literary scene is in full crisis: Today, the alt lit criticism site and scene blog of record Htmlgiant announced that it's shutting down. Meanwhile, in a private Facebook group associated with the blog Alt Lit Gossip, women writers have suggested forming an entirely new scene, "no boys allowed."
Keep reading at Alt Lit Is Dead and Its Women Writers Are Creating Their Own Scene.