Paul Sattler, self-portrait.
I really never know how an NC issue is going to come to shape in the end, what obsessions lurk in the editors or the minds of the contributors. This one circles the macabre, with death and violence at its core, but, yes, still ardent, beautiful, uncanny.
Paul Sattler went to Italy last summer intent upon the composer Gesualdo, "riddled with violence, paranoia and personal demons – including a jealousy-fueled murder of his wife and her lover." Mary Kathryn Jablonski curates here painting, sketches and Sattler's own notebook entries in a piece called "Radical Amazement."
Fernando Sdrigotti, the Argentinian expatriate author living in London, has become an aficionado of the contemporary art form of video death (recently made popular by ISIS with its series). Sdrigotti's essay begins with a stringent meditation on the execution scene in Antonioni's The Passenger.
Shot on 16 mm, in saturated colours, the grainy footage depicts a public execution on a faraway African beach. We see the prisoner handled by guards, then tied to a pole by the sea, a priest having his final say, locals gathered to witness the spectacle, a coffin waiting. A firing squad is in charge of taking this man's life and soon the first volley of shots hits his body. The camera zooms in, to an out of focus close up of his face.
Fernando Sdrigotti
Bruce Stone
And then we have Bruce Stone's brilliant, trenchant, mesmerizing fictional portrayal of a mass-murdering teenager, reminding us of that which we do not want to be reminded, that evil can invent its own reasons. It begins eerily, and we know exactly where it is going.
This is gonna hurt a little. The shooter mouths these words in a hush, the syllables squashed and slurred, just coded exhalations of cotton mouth and brimstone, aimless as smoke rings, not quite turned to purpose vis-à-vis the face of the woman behind the plate glass. With one hand beyond the shooter's line of sight, she's got a death grip, he knows, on the handle of the guard door, all of the blue veins bulging wildly, desperate to halt his ingress.
Sam Savage. Photo by Nancy Marshall.
NC newcomer Jeff Bursey reviews Sam Savage's new novel It Will End with Us. Like Modernist and Postmodernist writers, Savage prefers to dislodge certainty from its purchase rather than provide sudden plot twists. Eve sums it up: "If I had to describe my situation in a word… it would be indeterminate."
Steven Smulka. "Solar System."
From Spain, the critic Maria Jesús Hernáez Lerena sends a gorgeous essay on hyperrealism in painting and the fiction of Canadian novelist Lisa Moore.
…a basic idea that underlies much of the theories of Susan Sontag, John Berger, and Jacques Rancière: the belief in the dichotomy between seeing and understanding. John Berger's quote "Yet the knowledge, the explanation, never quite fits the sight" (1972, 7) points at this basic premise: an awareness of the mismatch between what we perceive through our sense of sight and the elaborations of discourse. The idea that the image does not make you understand, that it only activates your sensory system…
Maria Jesús Hernáez Lerena in San Sebastian.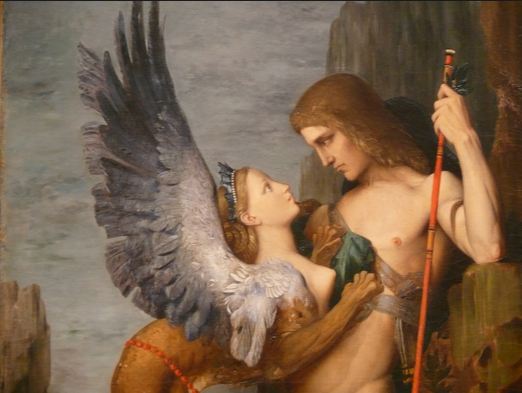 Oedipus and the Sphinx (detail) by Gustave Moreau.
The American critic Warren Motte (introduced the NC some months ago by our indefatigable Contributing Editor Julie Larios) delves into myth, mirrors and those broody Scandinavian detective novels so popular these days.
Another moment, again involving Lisbeth Salander, occurs in The Girl with the Dragon Tattoo, and it is far more difficult to dismiss: "She had a dazzling view of Lake Zürich, which didn't interest her in the least. But she did spend close to five minutes examining herself in the mirror. She saw a total stranger" (442-43). The encounter is far more uncanny than the one in The Girl Who Played with Fire. The abyss between the self and the reflection of the self yawns more broadly, and the language is more uncompromising. Reason tells us to interpret this figuratively, but desire urges us to read it literally. In this instance, one can really go either way; it is a shining example, I think, of a passage that teeters in precarious equilibrium right on the brink of this third and final type of mirror scene. Sort of like a funambulist, in other words. And what is it about funambulists that fascinates us, other than the possibility that they might fall off the wire? It is the very precariousness of their situation that keeps us breathless….
Lisbeth Salander looking in a mirror in The Girl with the Dragon Tattoo.
Sharon McCartney
From the amazing poet Sharon McCartney sent in poems that strike out into completely new territory, mythic, aphoristic, terse and wise, a long poem, Metanoia, a meditation on love and marriage, dry, acerbic, lonely, beautiful.
No man in my life, nothing to worry about. No one to disappoint.
A failure of nerve, perhaps, but peaceful.
***
All of that effort to make myself loveable only made me unloving.
Richard Farrell as a young pilot.
Senior  Editor returns to the roots of his art, the long joy and unraveling of his youthful dream to become a pilot. In this gorgeous memoir he brings to life his first solo flight, like first love, never to be forgotten, always a promise of what might have been.
For a moment, I thought I might throw up, not an uncharacteristic response from my body when faced with stressful situations (like asking a girl out for a date). The propeller twirled and the fuselage rattled. Only two choices remained: grow a pair and get going or pull the parking brake, open the door and run screaming for the woods. Gasping for breath at the end of the runway, this couldn't have been how Yeager got started.
Frank Richardson
Frank Richardson gives us a lively, fascinating essay on the art of the long sentence, the use and beauty of the serpentine text as practiced by the masters, Nicholson Baker, Faulkner, Bohumil Hrabal (who wrote a book that is one long sentence), Joyce, Mathias Énard, David Foster Wallace and more.
The closest analogy I can imagine is that discovering Proust's long sentences was like discovering a new genre of music, as if I had lived my life without knowing there existed such things as symphonies. If prose is like music, then some types of writing must resonate with particular people just as we have different musical tastes, and Proust's swirling syntax certainly resonated with me. Eyes opened, I pursued the subject and discovered the rich variety of ways other writers employ long sentences to dramatize the actions and thoughts of characters.
Translator Alistair Reid and Borges (side by side, centre).
Julie Larios does a wonderful job excavating the reputations of the great forgotten or ignored poets in her Undersung series. Her regular trips to the cemeteries of the overlooked are an inspiration to us all, and she has the rare gift of being able to write gracefully about prosody and form. This month she explores and life and work of the peripatetic Scottish poet and translator, the man who almost singlehandedly made Borges a household name, Alistair Reid.
Over his lifetime Reid lived for extended periods in Majorca, Switzerland, Argentina, Chile, the Dominican Republic – on a ginger plantation – Mexico, England – in a houseboat on the Thames – and the Greenwich Village neighborhood of New York City, where he finally settled in (or was settled by old age) until his death. The obituary Charles McGrath wrote in The New Yorker three days after Reid's death opens with this line: "The poet and translator Alastair Reid, who died on Monday at the age of eighty-eight, had itchy feet."
Mark Anthony Jarman
Mark Anthony Jarman, master prestidigitator, pyrotechnic writer, has a new book coming out in the spring, much anticipated. And we have a preview, one of the stories, "Exempt from the Fang," from Knife Party at the Hotel Europa, forthcoming from Goose Lane Editions.
Eve and Tamika crave more sleep and the party animals cradle monstrous hangovers from their dubious cooking wine.  For a few cents more decent plonk can be had, but they scoop up huge jugs of cheap cooking wine, amazed by bargain prices, but this is stuff the Romans don't drink.  At dawn they feel the hurt big time, at dawn they can barely move, can barely text or kill aliens.
In my arms I once carried my dead dog from the street where it had been hit by a driver who did not stop: my dog's beautiful brown eyes lost their light to a machine, the brown eyes had no depth, no engagement, no awareness.  Some in the group have that dead canine look as we shuffle down the block to Michelangelo and the vaulted ceilings of Sistine Chapel.
Pushkin's death mask.
Myler Wilkinson channels Russian writers, the ancient and the dead. Last year in the slush pile for a contest I found his story about the death of Chekhov (which won the contest). Here he does Pushkin, dead in a duel at 37.
I lay in the rain, in my strawberry shirt, red-on-red in a dale of Daghestan; I dreamt of mountain precipices, of crimson peaks, of a solitary sail seeking distant lands—and my blood grew cold and ran away. A fool of time.
And the Tsar said: A dog's death for a dog.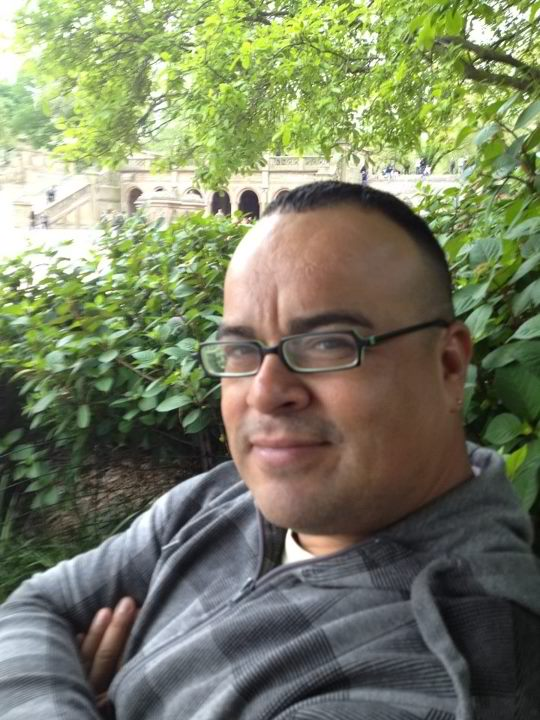 Rigoberto Gonzalez
Sadness and childhood: perhaps no one other than Rigoberto Gonzalez can weave together a cheery boyhood, poverty and hunger with such dash, such energy. The life in the writing nearly belies the subject matter. But you ache reading this memoir.
The sound of chewing around me was deafening, and it took me back to that moment I had experienced hunger once before, when my father disappeared. Suddenly it all came back to me–how it felt as if my guts were tying knots around each other, how I came across a candle on my mother's bureau, the one that released the scent of cinnamon, and how I couldn't figure out how those teeth marks had gotten there, but now I did. I had always heard the grown-ups say that I would never be able to tell when my body was stretching because it happened gradually. But something inside me grew in an instant and I felt like shattering.
And, as usual, there is more, much more. A. Anupama reviews the new W. S. Merwin poetry collection, The Moon Before Morning. Charlie Geoghegan-Clements reviews the translation of  Nicola, Milan by Ludovico Pignatti Morano. Robert Day returns with another Close Encounters of the Literary Kind essay, this one about the poet Dave Smith. And, of course, Rob Gray is back with another NC at the Movies and Gerrard Beirne paints the page green with his amazing Irish Lit & Culture series Uimhir a Cúig (Number 5 in Irish).
dg