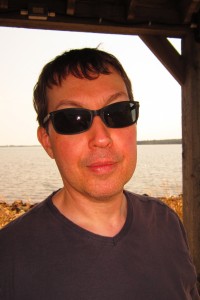 NC's new Special Correspondent Jeff Bursey has a very smart review of Lance Olsen's new book in the new Winter Issue at Quarterly Conversation.
Inside, Olsen adds to the buffering by using two forms of punctuation to protect the words from the white margins (and/or vice versa), and makes clear early on what he thinks he's going to be writing: ":::: A week before you leave, you decide to keep a trash diary: a constellation of sense, thought, memory, observation, fast fact scraps." Those are almost the opening lines, they occur on the second page, but we have to get used to two things immediately: that brace of colons (what Olsen thinks could indicate "what cannot be articulated accurately"), as if "fast fact scraps" will be tough on the digestion, like fast food—unless the whole thing is a verbal Instagram of today's America—and references to other artists that can, at first, look like name-dropping. On the first page Koestenbaum, Heidegger, and Derrida are brought in, while on the second there are quotes (unsurprisingly, not set within standard punctuation) from Guy Debord and Leigh Gilmore. A not-quite-scientific count yields, from page eight (epigraphs by two Germans, W.G. Sebald and Friedrich Kunath) through 139 (the last page filled with text), about 11 pages in which artists are absent. Many pages have three or more, and some are in the double-digits. As visiting writer at the American Academy in Berlin for the first five months of 2013, Olsen naturally drew strength and insight from other artists to assist with the cultural shift and, as time went on, to understand better what it means, and has meant, to live in Berlin (which at times is a synecdoche for Germany).
Read the review at [[there.]] by Lance Olsen | Quarterly Conversation.