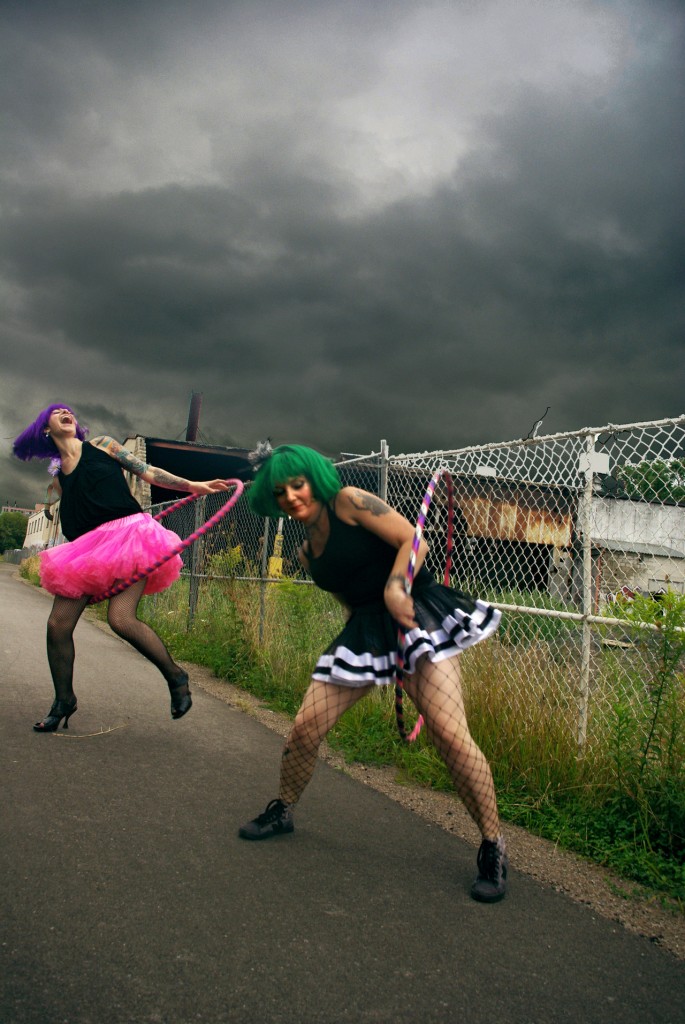 Apocalypse Now: Photo by Jowita Bydlowska
It's the turning-of-the-year, the hinge of the world creaking, the door shutting behind us, much new horror anticipated for the New Year (but before that, Christmas shopping, Black (Death) Friday, stockings hanging by the fire (image: fire leaping onto stockings, blazing up the mantelpiece, consuming the house — the usual Christmas nightmare; it used to be images of Santa dead and roasted on the glowing embers Christmas morning — I had a healthy childhood). And so we call this the Apocalypse issue, the raising of the veil issue, the revelation of a previously unfathomable future complete with dancing girls and hoola-hoops courtesy of photographer-novelist-memoirist Jowita Bydlowska who contributes to this issue a selection of disturbing, subversive, gender bending photographs of what might be best described as a dark femininity, which lifts my heart.
Kevin & Derek White
From Derek White, the legendary artist-writer-editor at Calamari Press we have a stunning collaboration, a multi-hybrid work of nonfiction created out of his brother Kevin's MFA thesis, itself a recapitulation of Joyce's recapitulation of Homer's Odyssey written as a trip through Asia in search of his father, dead by suicide years before — Kevin himself died subsequently of a drug overdose. White adds (think: collage) Kevin's drawings, journals, unpublished short stories and his own commentaries to create a massive art/text thing full of rhyme, cross-reference, and startling juxtaposition. This is part of a book that will be published next year under the name Chaulky White, the nom de plume of the two brothers together.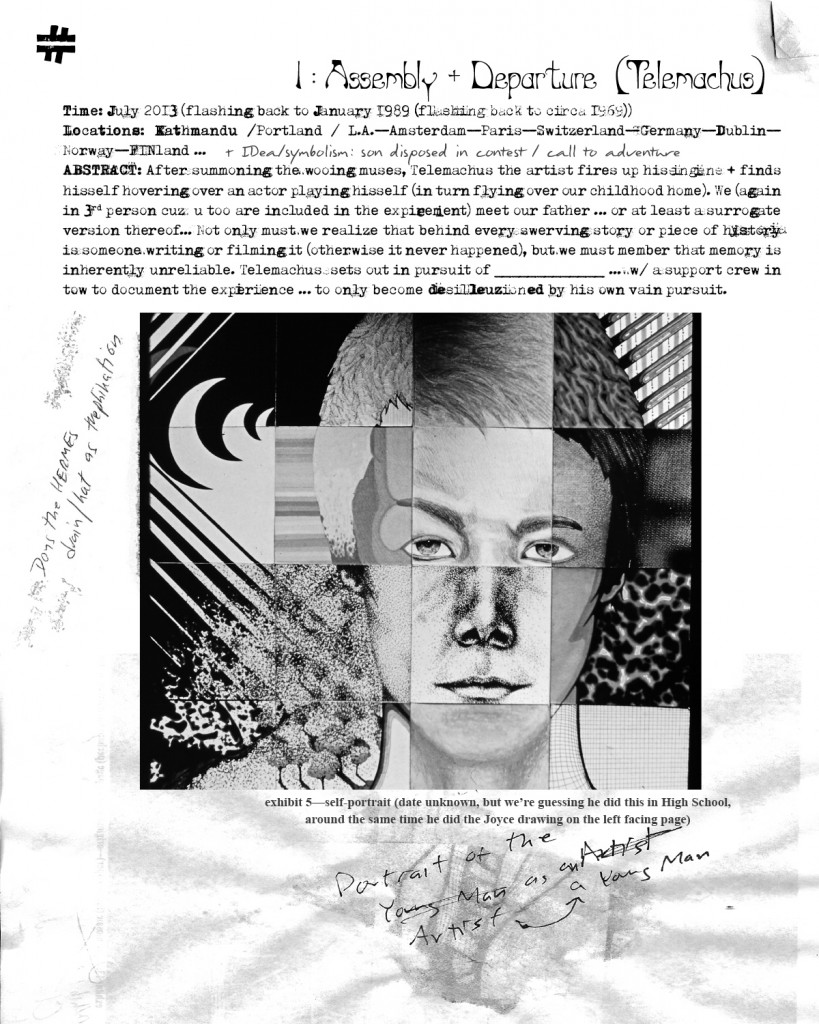 By Chaulky White
Lisa Robertson
Natalie Helberg contributes a review of Cinema of the Present, a new book by the Canadian experimental writer Lisa Robertson.
It is eclectic, rarified, and dense, scatterbrained and philosophical: It tells us that the stakes of writing are high, that writing sculpts subjects as much as it sculpts the domain they dwell in, and that, consequently, there is no trick-bag to rest on, no set of writing techniques we can master and remain content with.
Emily Dickinson
Contributing editor Pat Keane, snowed in in Syracuse, delves into the state of Emily Dickinson's religious belief, her alignment with the Romantics, her natural supernaturalism, as he calls it.
"Nature" is what we see—
The Hill—the Afternoon—
Squirrel—Eclipse—the Bumble bee—
Nay—Nature is Heaven—
Mary Morrissy
From Gerard Beirne, editor of our Irish feature Uimhir a Cúig, we get "Déjà Vu" a gorgeous, lush story by the novelist Mary Morrissy, about a cancer patient who, instead of going home after chemotherapy, drops into a pub and falls into a chemo fugue, as she calls it, remembering old loves and betrayals, only to be, shockingly, mistaken for a bar denizen's mother.
The treatment doesn't make me sick, it makes me dazed. And tired. Dog-tired. Fatigue strikes like a power cut and I have to sit down ─ now ─ or I think I'll die. The hospital is a stone's throw from Suesey Street, the part of town I used to frequent a decade ago, when we were an item. Last week, after my session, I found myself wandering there when I had one of my turns. It was a thundery kind of day; the sun was spiteful. There I was, passing "our" pub. Where we would meet on days like this one, hot and humid, or on brown afternoons threatening rain, during our two seasons together. Either way, this was where we would meet in secret and hide from the prevailing climate of prying eyes.
Adrienne Love
From Adrienne Love, a funny, knowing short story about love, marriage, babies, and sudden illicit lust for a handsome young man. The story is called "Hot," and it is.
I am beyond hot for Jeremiah, who's only 20, half my age, and in a relationship. But the relationship isn't the problem because Jeremiah's not in love with his girl—he's in love with me. And it's not our ages either, though I could be his mother. The problem is that while I would love to shag Jeremiah silly—God knows I would—I'm in love with my husband, Thomas. Really. It's these darned herbs I'm taking—Shitavari: Capable of 100 Husbands and Ashwaganda: Strength of a Horse—to get us pregnant.
After all baby makes three and all that crap.
I am a horny mess, what with all this bewitching of my ovaries, and Jeremiah knows I'm hot for him, Good Lord. If that boy presses his cute little checkered pants arse against my apron one more time I'm going to lose my cucumbers.
Rainer Maria Rilke
From translator David Need, we have Rilke poems about roses, in French first, then the English, from his book Roses, just out with Horse & Buggy Press. And then an interview with the translator, Need, by Dan Holmes, who last appeared on NC interviewing the travel writer Richard Grant.
I see you, rose, book half-opened,
having so many pages
of detailed happiness
we will never read. Mage-Book,
which is opened by the wind and can be read,
eyes shut …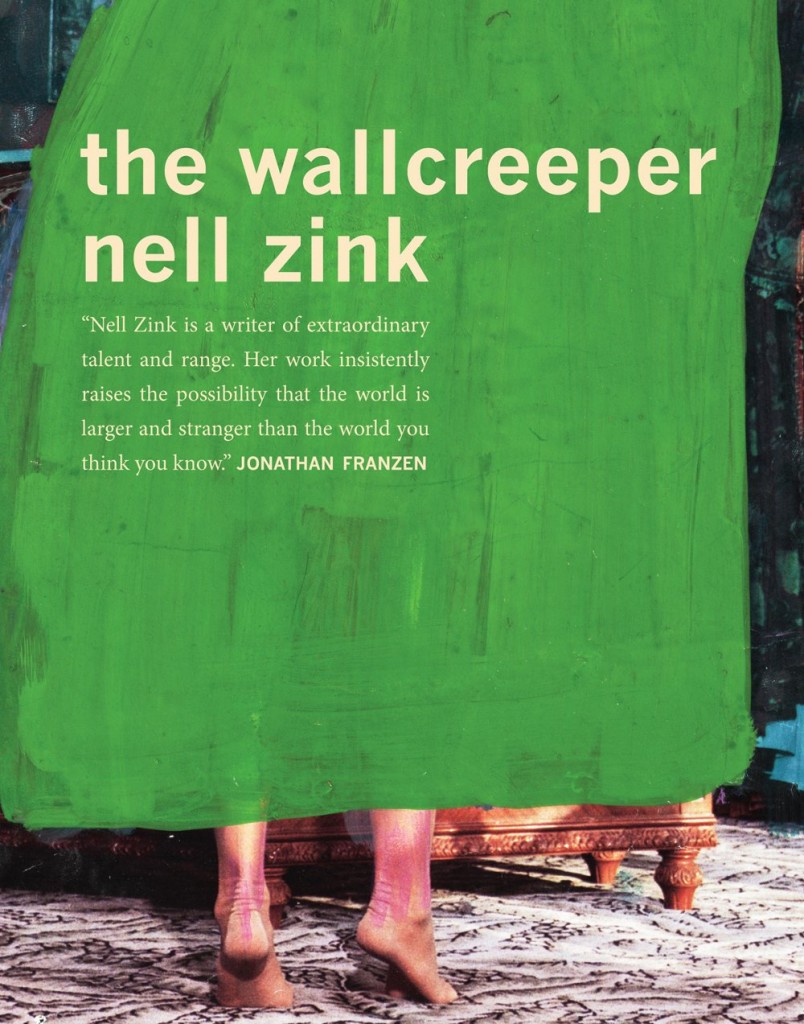 Ben Woodard contributes an review of the Nell Zink's debut novel The Wallcreeper.
Shambhavi Roy
Shambhavi Roy pens an illuminating essay on the mysteries of subplots in novels, yoking together for her purposes two disparate works: Sense and Sensibility by Jane Austen and Anne Tyler's The Accidental Tourist.
I counted seventeen different occasions when Jane Austen brings out the striking diversity in the conduct of these two sisters. The sisters form two parallel mountain ranges reflecting sound off each other so the echo reverberates in the reader's mind. The author seems to pitch antithetical ideas because, I believe, human beings do not understand in a vacuum but in relation to one another. In E. K. Brown's terms, the two sisters "irradiate each other and become clearer by irradiation." By offering contrasts and similarities the author is according greater depth to these characters and the social milieu, while trying to get at the hidden truth.
Lise Gaston
Also a clutch of poems from the delightful Lise Gaston, now living in Berkeley (via Fredericton, Victoria and Montreal).
.………from Village bacchanals I never told
you I don't remember this let you
shake yourself alone on your way to
another part-time job imagining
bbbbbball the dark angles of my open mouth
W. S. Merwin
Also a review of the latest W. S. Merwin collection by A. Anupama.
A scene from this garden opens the new poetry collection in "Homecoming." Specific in place and time, the setting for the silent arrival of a migrating flock of birds takes shape in almost one sentence. I say almost one, because the line break that marks the end of the first sentence (I looked across the garden at evening / Paula was still weeding) suggests the conjunction "and," which then begins two of the consecutive lines just after. The assonance and half-rhyme between "evening" and "weeding" fold the lines together, keeping the unpunctuated sentence break smooth. At the dramatic arrival of the birds, however, the line break splits a prepositional phrase: "…and at that / moment from behind me…." The other such line break splits silence open between the last two lines of the poem: "but home now arriving without / a sound as it rose to meet them."
Julie Trimingham
And last but never least, from Senior Editor R. W. Gray (locked away somewhere doing the last edits on his forthcoming book of stories), the last of Julie Trimingham's triptych of essays on influences, avatars and the art of filmmaking at Numéro Cinq at the Movies.
dg