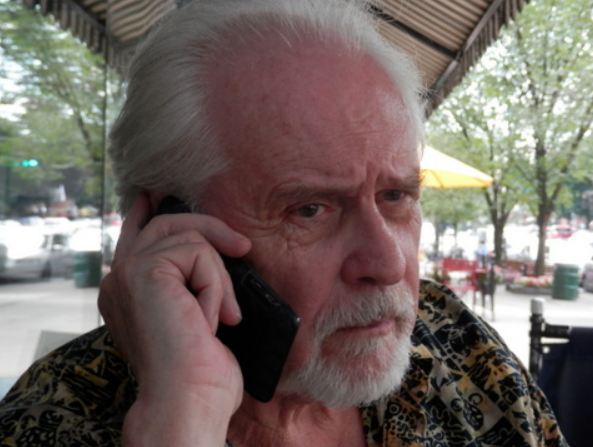 Top of the Page, that is, featured in the slider at the top of the home page, this month is Patrick J. Keane, a Contributing Editor at Numéro Cinq since 2011 (the February issue) when we published his essay "Convergences: Memories Involving The Waste Land Manuscript." Pat quickly followed that up with an essay about his cat Rintrah, which, as I recall, was originally going to be an essay about a race horse (the race horse essay has never materialized — note to self). Since then he has been a steady and formidable contributor of essays, reviews, fiction, and memoir, covering everything from John Steinbeck to Nietzsche to Emily Dickinson to Keats to Emerson to Wordsworth and to Yeats. His most recent piece for us was his essay in the February issue just past on the Charlie Hebdo massacre, the Pope, and Islamic terrorism. His essay on The Grapes of Wrath, movie and novel, is one of the top five most popular texts ever published in the magazine.
In short, it wouldn't be the magazine it is without Pat Keane. His erudition, his gift of language, his ability as a raconteur, and his astonishing energy are an inspiration to us all.
Note that what I have displayed at the Top of the Page is only a portion of Pat's prolific output. Take a look at his Archive Page to see everything he has published here.
dg
§
Patrick J. Keane is Professor Emeritus of Le Moyne College and a Contributing Editor at Numéro Cinq. Though he has written on a wide range of topics, his areas of special interest have been 19th and 20th-century poetry in the Romantic tradition; Irish literature and history; the interactions of literature with philosophic, religious, and political thinking; the impact of Nietzsche on certain 20th century writers; and, most recently, Transatlantic studies, exploring the influence of German Idealist philosophy and British Romanticism on American writers. His books include William Butler Yeats: Contemporary Studies in Literature (1973), A Wild Civility: Interactions in the Poetry and Thought of Robert Graves (1980), Yeats's Interactions with Tradition (1987), Terrible Beauty: Yeats, Joyce, Ireland and the Myth of the Devouring Female (1988), Coleridge's Submerged Politics (1994), Emerson, Romanticism, and Intuitive Reason: The Transatlantic "Light of All Our Day" (2003), and Emily Dickinson's Approving God: Divine Design and the Problem of Suffering (2007).