Detail from the cover of Here Comes Kitty reviewed in this issue
Call this the Other Worlds issue, the liminal issue, the ghost issue. It's our best yet, no doubt about it. It has come together fortuitously with contributions from Iraq, Brazil, Ireland, Australia, Canada, China, Argentina, and the United States (maybe there are more, I am getting lost and the issue is still taking shape as I write). And the other worldliness is just a matter of geography. We also have pieces on the after life, on Hell and Judgment, on ghosts — real fictional ghosts and ghosts that are figurative as well as ghost literatures and shape-shifting art forms, fluid and combinatorial. This issue is a symptom of where we want to go. It is always a mistake to think that NC is any one thing, is achieved; it is protean, it is always on its way to being something else, something future and possible, or, perhaps impossible.
Jen Bervin
In this issue Darren Higgins interviews  the peripatetic and brilliant experimental poet/artist Jen Bervin on her latest project, the Silk Poems…
an experimental book (if "book" is defined loosely) that takes silk, in Bervin's words, "as its subject and form, exploring the cultural, scientific, and linguistic complexities of silk, mending, and the body through text and images nanoimprinted on transparent silk film." If you were to hold up a piece of this translucent material, what would it look like? What might you see? Very little at all—until you shine fiber-optic light through it. Then the words and pictures would jump up, projected into bloom. 
Agri Ismaïl
American English, English-English — English is the world Leviathan, and what is it like to write a novel in a language spoken by only a few and in a script that is neither Roman nor Arabic nor Chinese? Agri Ismaïl is a brilliant Iraq & Swedish-based writer tackles the issue for the Kurds, a people with no country to their name and a literature that trembles on the edge of disappearing.
The remains of the Kurdish novel are, then, mere shadows, flickers of what once was. To think of what exists as a comprehensive picture of Kurdish literature is akin to thinking Sappho's fragments represent her complete work.
Four Woodcuts from Pinamonte's Hell Opened to Christians, to Caution Them from Entering into It
Patrick J. Keane, our insanely prolific contributing editor (so much so that he bumped his own piece from the last issue AND he has two pieces in this issue), pens here a gorgeous, dense, erudite and deeply personal essay/memoir on death, judgment and that pernicious notion of Original Sin that condemns even babies to the eternal torments of Hell.
In short, because of Original Sin, we are all guilty, and deserving of hell. And when that stain has not been cleansed by the sanctifying grace of baptism, it follows, and Augustine unhesitatingly followed that appalling logic—even if the prospect of babies in hell is more hideous than the doctrine of predestination itself— that unbaptized infants must be damned: a singularly atrocious example of what "was due to all."
George Szirtes
We have poems, yes, wonderful poems, from the Hungarian-English poet, essayist, translator George Szirtes.
That night I spent my last nickel to call Steve.
The box was empty bar the usual cards
advertising the usual services of night.
One lives for such small favours, such rewards.
One lives for what night keeps up its loose sleeve.
Terese Svoboda
Terese Svoboda offers our readers an embarrassment of riches, two short stories, electrifying, so precisely written they seem etched in stone.
My lover and I take three ferries, hike to a promontory and sleep in bags. A sort of sleep: sausaged with his big body and member, there's not much turning room other than inside each other. Then there's dawn and food: we knife open oysters from their beds. He's lithe across the rocks in his nudeness despite his size and fur, he's ridiculous running after me, mock caveman. I'm restless when caught, asking for another story about his trip abroad. I was so stoned, he says. All of it was art. I set the timer for the picture of the two of us anyway. (from "Rugby")

David Zieroth
And this month our production manager (currently holding down a beach blanket in Hawaii) Kathryn Para interviews the Governor-General's Award winning Canadian poet David Zieroth, who also offers a clutch of poems in the shape of a Slovak lexicon.
rozhádzaný
means rattled in Slovak, he said
the morning he told about
leaping back before a big car
ran him down, the white hand
untruly telling him he was safe
I said the sun must have blinded
the driver's eyes, sun so rare
and you're invisible, Miro
I joked, like all Slovaks here—
Richard Kraft & Danielle Dutton
Natalie Helberg reviews wildly combinatorial arts of Richard Kraft and Danielle Dutton in the just published Here Comes Kitty….A Comic Opera.
Richard Kraft and Danielle Dutton's Here Comes Kitty, a collage project (Kraft's) with written interludes (Dutton's), beautifully, wantonly, defies review. Like a dream, it slips off the binds of the mind, building up structures which differ from those present upon rational waking.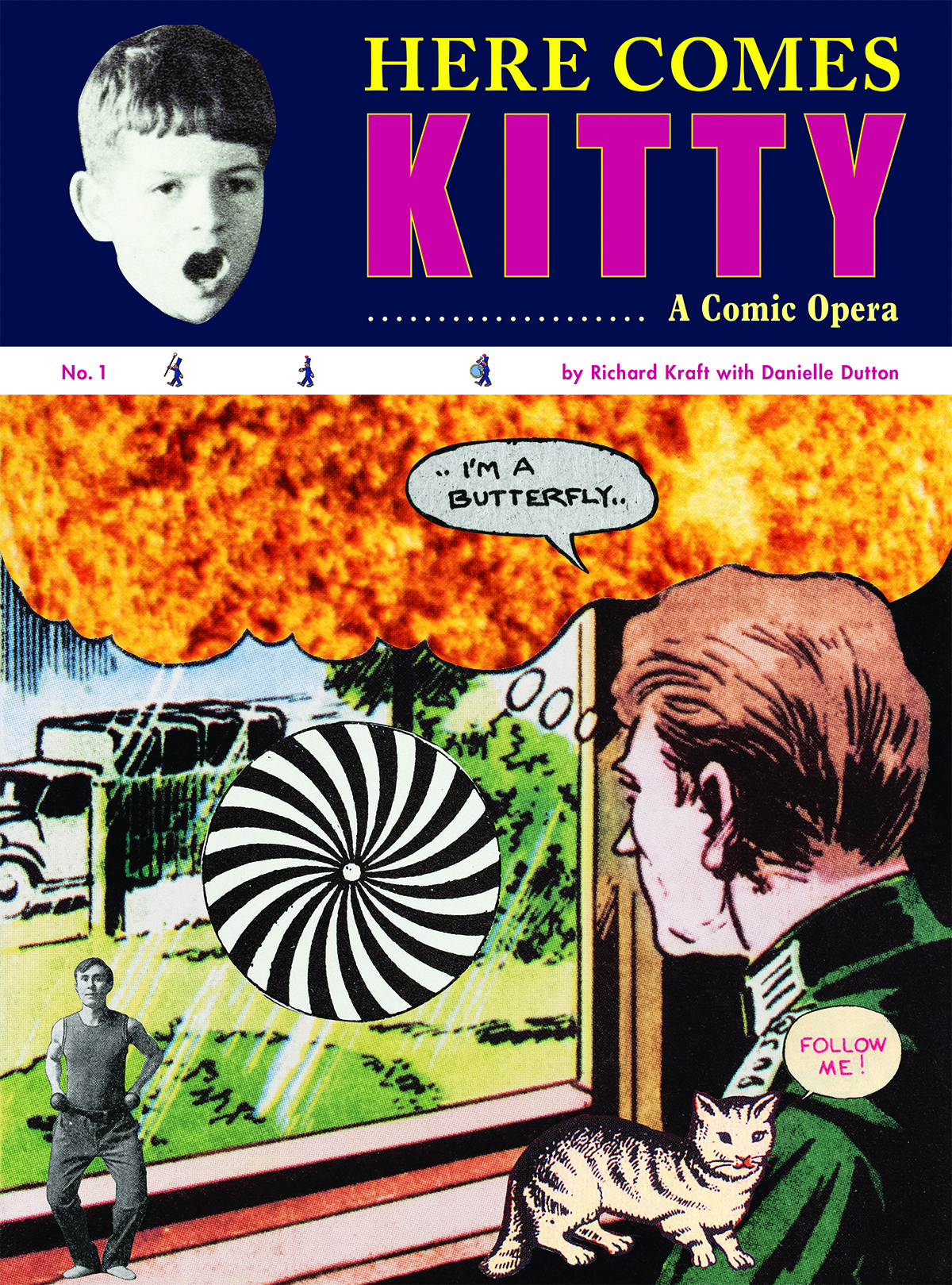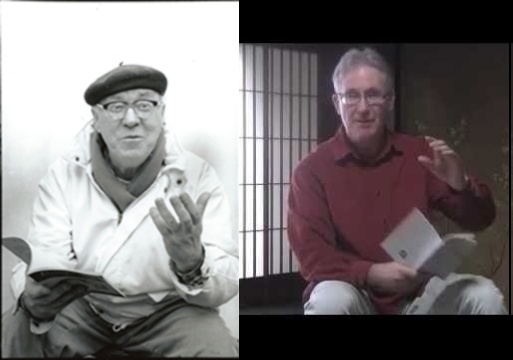 Cid Corman & Gregory Dunne
We have a comprehensive and erudite re-assessment (resurrection) of the Boston poet Cid Corman, overlooked and forgotten perhaps, by Gregory Dunne, an excerpt from his book Quiet Accomplishment: Remembering Cid Corman published by Ekstasis Editions. While curating this piece, Senior Editor Gerry Beirne wrote: "…the more I look at his work/life, the more he grows in my estimation and I share a sense of the sadness he felt about being "forgotten"- I think the piece is timely and it would be good to share his significance with a literary/artistic community that may be unaware of him."
Toni Marques
From Brazil (yes, we are branching out a bit this issue, have I mentioned that?), we have a little magic realist tale that puts me in mind of Peter Carey's novel of Australia, Illywhacker, a magic history of  Australia-cum-novel in which Australia becomes a museum diorama for Japanese tourists. In somewhat the same vein, Toni Marques takes us to a Brazil in the future where the notorious slums have become tourist sites where outsiders come to get a taste of the real — only, of course, the real bites.
"We're Brazilians, ok? We should do this, we should do that, but we don't do anything because we are Brazilians, period. Nowhere else in the world can you get something like this tour. Yes, this is something totally new. Yes, we need to improve lots of stuff. But, hey, you're in Rio's oldest favela watching a typical day of a crack-cocaine torn family. It's a crack-o-rama if you will. Anything can happen to a crack-cocaine favela family, what else can I say? You see the girl running around like crazy? Perhaps right now she's high, you know."
Senior Editor Ben Woodard reviews the new Kelly Link short story collection Get in Trouble.
Throughout Get in Trouble, Kelly Link dares her characters to make these kinds of tough decisions, whether it's stepping into a hurricane or fooling around in an abandoned amusement park, and while these choices vary in their reward for the author's protagonists, they continue to shock, move, and amaze the reader.
And in Uimhir a Cúig, our regular Irish feature edited by Gerard Beirne, this month we offer an interview with the Irish-Australian novelist John Connell and an excerpt from his new novel The Ghost Estate, a book about the boom and bust of the Celtic Tiger and the effect that has had on the lives of the Irish and east European immigrants as well.
The Poles emerged with their shaved heads and plastic bags full of sandwiches. Odd they never seemed to have a lunchbox, not one between them, Kane thought to himself.
They had lived here for over two years. He'd done little with the house: put in some bunk beds, a lick of paint and that cheap oil burner instead of the range. The walls were still damp on cold winter mornings. They had probably brought on Noel's bad chest and would, in time, would make the Poles sick too. But they were young and hardy.
'Good morning lads,' Kane said as Jans and the others began slowly to climb into the vehicle.
'Morning boss,' said Jans quietly.
B. D. Love and Maura Kennedy
The indefatigable and prolific Pat Keane doubles this month as a music critic, penning a short essay on a brand new song by Maura Kennedy (t0 lyrics by poet B. D. Love). We have the song! Play it while you read.
But the highlight for me was a song titled "I Cried to Dream Again." Maura wrote the music, to accompany lyrics by a poet-friend, B. D. Love. As the title indicates, Mr. Love is playing off one of the most beautiful, and utterly unexpected, passages in Shakespeare: lines spoken by Caliban in Act II, Scene ii of The Tempest. When the fools Stefano and Trinculo are frightened by the music created by the invisible Ariel, Caliban responds:
Be not afeard; the isle is full of noises,
Sounds and sweet airs, that give delight, and hurt not.
Sometimes a thousand twangling instruments
Will hum about mine ears; and sometimes voices,
That, if I then had wak'd after long sleep,
Will make me sleep again; and then, in dreaming,
The clouds methought would open, and show riches
Ready to drop upon me; that, when I wak'd,
I cried to dream again.
From The City That Flees by Argentine filmmaker Lucrecia Martel
And in Numéro Cinq at the Movies this month, Sophie Lavoie introduces readers to Lucrecia Martel's stunning short documentary on the rise of gated communities in the cities of Latin America.
These compounds have become playgrounds for the rich, featuring country clubs with golf courses, polo grounds, shopping malls, bilingual schools, and medical centres, as the film points out. They provide the illusion of an oasis for the wealthy, allowing them the freedom to circulate freely within the confines of their fences.
Martel's short documentary juxtaposes the steady, foreboding view of the wall with shots of the neighbours across the street, emphasizing the fact that her film crew was not allowed into the neighbourhoods, in spite of their many attempts. The outsiders, like the film's viewers, are left to muse about the wonders contained within.
And need I add: There is more…