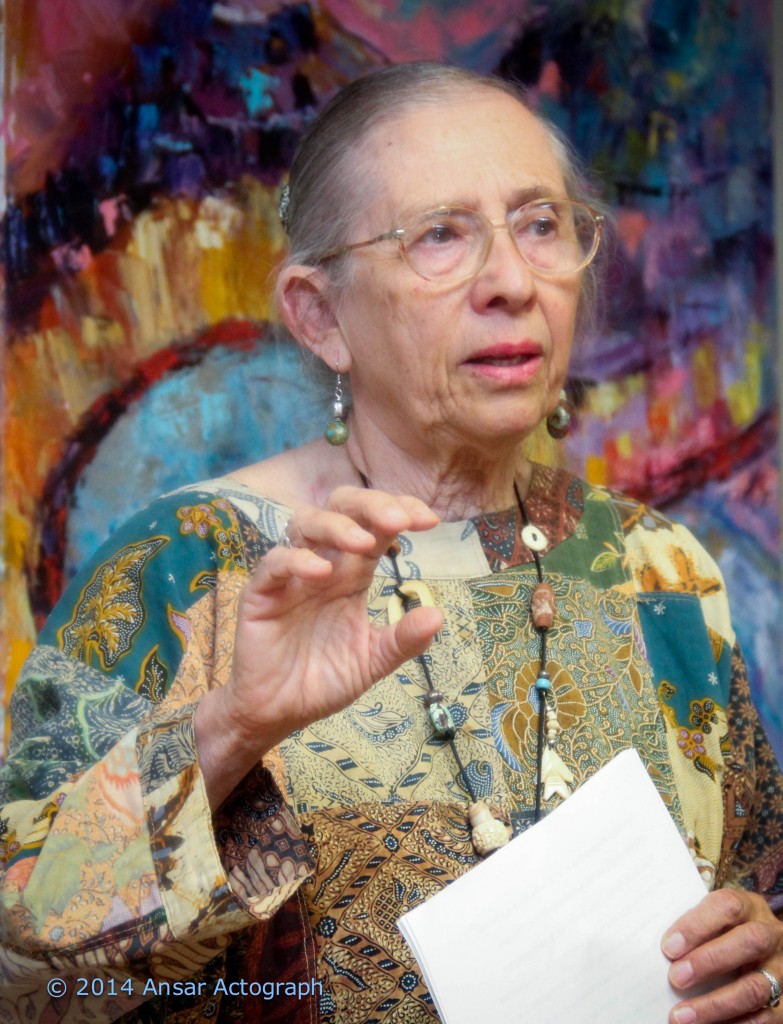 Gladys Swan
Gladys Swan's first novel Carnival for the Gods, an offbeat, comic blend of fantasy and reality originally published in the Vintage Contemporaries Series, is now the first book of The Carnival Quintet, an 18-year project finally coming to completion. Carnival of the Gods has just been published by Kiwai Media in Paris, and the remaining novels will come out 2015 and 2016.
Carnival for the Gods follows the adventures of a small ragtag circus/carnival traveling through the legendary Seven Cities of Cibola, located somewhere between Mexico and the U.S., the El Dorado the Spaniards were searching for when the came north to New Mexico. It is the dream of Dusty, the producer, to create a circus greater than The Greatest Show on Earth, but he is down on his luck. Most of the acts have deserted the show except for Dusty and Alta, aging trapeze artists; Curran, a midget; Donovan, a giant out of Rabelais; Amazing Grace, who dances with snakes; the Kid, who doesn't talk, but aspires to be a magician; and Billy Bigelow, a magician-cum-handyman and electrician.
Swan did the cover paintings for the quintet, all five distributed below. For the full lowdown on Gladys Swan, see our interview, a short story, and a selection of paintings published on Numéro Cinq).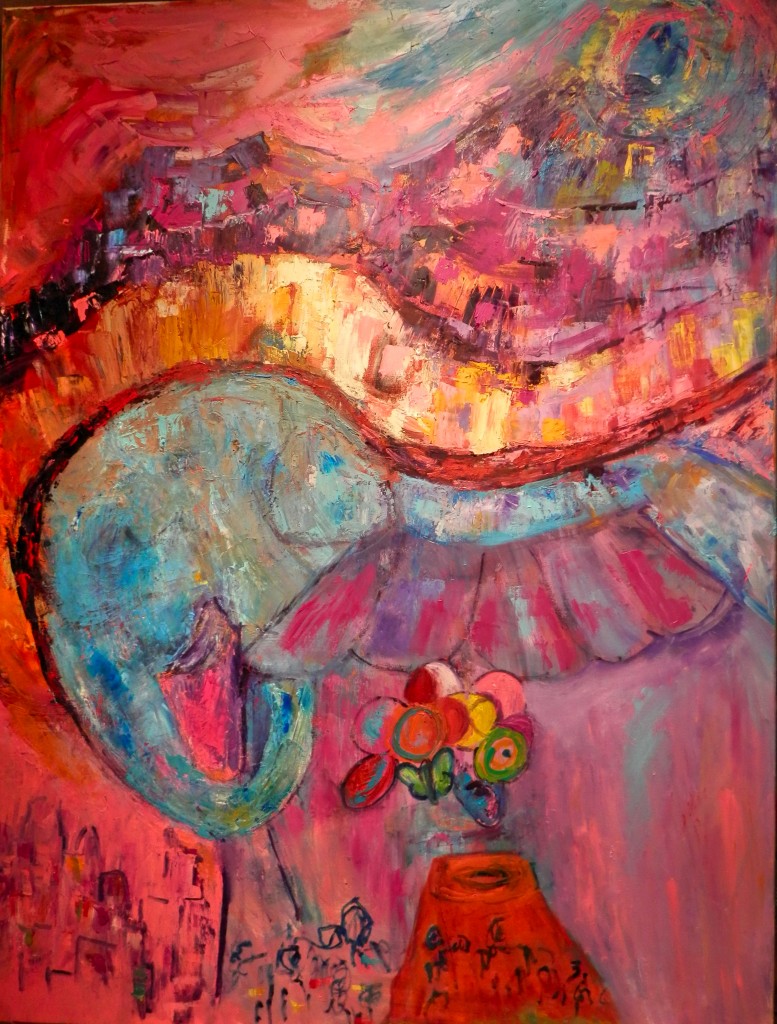 Carnival for the Gods, Cover Painting, Oil, 3'x4′, Gladys Swan.
.
Chapter 1
It was the first time Dusty had ever backhanded her, and it was not just the blow, the pain, the blood from her lip flowing saltily into her mouth that gave Alta the shock: it was the sense that something fatal had struck at the roots of her life. Things would never be the same. It was the edge of Dusty's ring that had cut her lip, a gold ring with a strange little head carved in ivory that he'd bought during a fit of extravagance in Kansas City and said was his good luck and that he'd never part with it. As she stood in the cramped little bathroom, looking into the mirror, teeth all outlined in red as though she'd been eating red-hearted plums or pomegranates, the lip still bleeding, it seemed as though she'd never staunch the flow. This is my life, she thought; this is time leaking away, as it has been doing year upon year. And I'm standing here letting it happen like I was born without a brain.
The whole of the little trailer had shaken with their quarrel, till even words and the clash of voices could not contain the violence. Pansy, the little curly-haired dog she kept, a cross between a poodle and a wire-haired terrier, had taken refuge under the couch and, looking at Alta with brown eyes that seemed full of the light of tragedy, still refused to come out. Dusty meanwhile had thrown himself out of the trailer and into the truck, banging doors all the way, setting up a cloud of dust as he roared off into town, leaving her there alone with the freaks and the animals in the broken-down carnival. She dabbed at her lip as she tried to calm her feelings. She was looking pretty terrible at the moment. Face blotched, bags under her eyes, broken lip, but she wasn't all that old—forty-seven—and there was still a chance for … what? For love, for money?
Money talks-she'd learned that much. It says yes and it says no. Says, you owe it to yourself, baby; go on and have it. Be my guest. Says, you're out of luck, sister. Says, go to the city and have yourself a ball; says, stay home and starve your gut. Says, turn on the gold-plated faucet, break out the champagne. Says, stay away, lady, you smell bad, and nobody's gonna give you a second look. Says, dream—the sky's the limit. Says, look at the walls peeling. Says, go hang yourself.
It says, Alta concluded, you have been with a man who's brought you nothing but trouble and grief, all the while promising you the world. And where has it landed you? Down in the flatlands with blood on your teeth. Always full of harebrained schemes. And he wasn't half as crazy as the rest of the outfit, only more unreliable.
"I'm sick of this life. Filled up to here." That's how it had begun. Dusty, sitting at the narrow formica-topped table with the bench on either side, at which they had shared what might be called their domestic life, was adding up one of his interminable columns of figures. Always trying to turn nothing into something, as Alta had it, to make less come out to be more. "Sick of it." He looked up: "There's no anchor hanging out of your ass."
The truth of this observation left her momentarily speechless-a yawl in a dead wind. Then her fury unlidded, and the fine brew the years had whipped to froth came boiling over, pouring out: the salt was. in her mouth, the distillation of years of sweat and tears and gall. All she might have had-all that had gone down the drain. It was the sandstorm that finally did it to her. Bad enough to have the equipment truck break down in the flattest, most god-forsaken stretch of natural freakishness she'd ever laid eyes on. Like somebody's uninteresting nightmare. A world created out of what any sensible being would've rejected in the first place or else reached for only in the dry heaves of violent boredom: things twisted and sharp and spiny and hard. Some of them reached up and out with arms dried and dead in their attitudes of empty aspiration. They seemed neither plant nor tree, these cacti and joshua trees; nor alive, these clutches of dry grass and sage brush against a rocky ground that gave off a hard glint. The rocks that rose in the distance looked to have no living thing growing on them. Only telephone poles and the blacktop to show that human beings had been here, mainly, Alta thought, to get through it and on to somewhere else: the sort of place you might consider beautiful only if you didn't have to be there.
Small Wonders, Cover Painting, Oil, 3′ x4′, Gladys Swan
It was one of those undistinguished spots of blacktop, miles from the notion of a town, they'd come to a halt in the middle of, when the rear axle of the equipment truck broke down, and their little procession came to an uneven halt, like train cars piling up. There was a dull, angry look in the sky, and they'd no sooner got their vehicles pulled off onto the shoulder than the wind picked up the dust and flung it at them, striking the metal roofs and sides like a flail. It was a good thing they weren't going anywhere, because they couldn't have seen to get there anyway. The sun was eclipsed, the windows dark with dust. And though the doors and windows were shut, so they were nearly stifled inside, the dust sifted through anyway, a fine layer over everything. They drank it in their coffee and ate it with their food.
The animals nearly went crazy. The horses neighed and tried to rear in their trailer. The little elephant stamped and trumpeted. The tiger paced her cage all night. And what with the fray and the clatter, the bay gelding had somehow injured a leg. They needed both a vet and a mechanic, two more bills to pay. So it was no wonder that on this day, in what appeared to be the wreckage of the storm, most of the people in the show pulled out. The operators of the booths–little independent outfits that had hooked up with them and would hook on somewhere else. The shooting gallery left, and the lucky spinning wheel, the car races, the coin and ring tossing set-ups–most of the acts and all the games of chance were taking their chances elsewhere.
"Well, you gotta live," Pearl Diamond said when she and Bates, who threw knives at her till her silhouette stood outlined upon the wall and she stepped forth unscathed, were taking off. "Be seeing you," they said to Alta. "No hard feelings." The first to leave, they had put the idea into the common mind, though no doubt somebody else would have thought of it too. Any woman, Alta thought, who trusted a man enough to allow him to throw knives at her was either too dumb or too lucky to have troubles in the world, and she envied her even as she wished her well.
If they hadn't missed the turn-off, probably none of this would have happened. They were supposed to have headed north towards Albuquerque, but they'd missed the sign and hadn't had the sense God gave a turnip to stop and look at a map. Before they knew it, they'd gone fifty miles out of their way.
If you hadn't … And how are we going to get out of this godforsaken place? Money and blame. Bitch, bitch, bitch. As if a man hasn't got enough troubles… Whose idea was it to … ? As if you never made a mistake. . . Money and blame. I could've made fifty to your one, and we'd both be better off. Brick bats flying back and forth. Pulling your weight… Whose weight?. . . Fed up with your… Because of you, godammit. You gave me nothing, not even .a child … Couldn't plant anything that belly of yours except a fart  … I should've got me a better man to try.
The blood had dried on her lip. Tentatively she touched the spot, then turned from the mirror. I could've been… Not been–was. Was one of the best damn trapeze artists in the business. The two of them together: Gold Dust and Dream Girl. The dream had turned to dust—hah! Ashes to ashes: Gold Dust to Dusty, what a joke. The two of them one great act, till the moment suddenly came, maybe by a slip of the foot and one miss in midair too many, by too dizzying a glance down below, Dusty seemed to lose his nerve, wanted to settle for a life on the ground, but with higher ambitions: a show of his own. At the time when they could've had top billing in "The Greatest Show on Earth," Dusty chased his dream of something grander yet, circus and carnival together, triumphantly called "The Carnival for the Gods." Earth wasn't enough for him.
He was headed into the clouds, into the skyscape of the forever possible, the shape of things to come. They'd play all the big cities, bringing back the days when everybody went to the circus. Giant celebrations in the heart of every city.
But the idea never really got off the ground. It was too vast for anybody but Dusty to believe in for very long. The force of his enthusiasm—he could talk people into anything and they would follow him around with puppylike loyalty—held them for awhile. But starvation was a powerful eye-opener. The shine wore off and off they went. And now they were down to the rag, taggle and bob that had stayed because they had nowhere else to go.
There had been better days: when she was up on the high wire, and her body was a flash of motion as she swung, hanging by her heels, across the top of the tent, the faces below like rows of lightbulbs, her body light as a firefly in her blue body suit. All alone up there, no nets below, with the tight thrill that was the joy bred of danger. The tingle in the blood. God, how she loved it! It was the years that had brought her down to earth. She'd nearly killed herself once in a fall. She'd lost her timing, her body had gotten heavy despite all her efforts. The pull of gravity, the reluctance of the flesh. And all the while Dusty trying to put together his misbegotten scheme.
Dancing with Snakes, Cover Painting, Oil, 3′ x4′, Gladys Swan
She put some water in the kettle to boil and took out ajar of Sanka. She didn't like the taste much, but even with the heat it was something to put into your mouth and swallow. Something to look into and stir your spoon around in while you sat. She spooned out the instant, poured in the water and sat ruminating, waiting for the coffee to cool, gazing into the dark liquid. Time out. It allowed you to sit down right in the midst of life while somewhere else people were killing each other or having babies or getting the mortgage foreclosed or carrying on a family quarrel that would leave seven people sworn enemies for life. Set a cup of coffee in front of you and none of it mattered, at least for the moment; otherwise you were out scratching and biting and clawing because the world was an obstacle you had to strike out at.
She was full of yearning, but she didn't know what for. When
she had had money, she bought clothes, strange fanciful outfits that could have taken her to another age and fashion, or to a costume party. She loved bodices decorated with pearls and sequins and fringes that shimmied when you walked and rhinestones that danced the light. She loved bright colors: reds that could have come from the throat of a trumpet and pinks and oranges and purples that peeled your eyeball back to the optic nerve. She had trousers and a turban made of cloth of gold, and tops all embroidered. Even now, when she took tickets she sometimes dressed up as the Queen of Sheba or a priestess of the moon in a gown, her special creation, that shimmered between gold and silver, set off by a crown of rhinestones with a fan of feathers rising from the back. But nobody paid any special attention. She had the stuff all packed in the closet. And Dusty wanted her to get rid of all that rubbish, just taking up space, but it would have been like stripping off her own skin. Yet she knew she'd never wear them anymore. Most of them were too tight anyway.
No, money wasn't good for anything. It was good to spend when you had it, but then you tossed aside what you had bought as so much junk. Dusty still had his ring–so much for the luck it had brought him.
As for love, that was even worse. Had she loved Dusty, she wondered, or had she just wanted a man who dreamed big, was headed for the clouds?
He couldn't even give her a child.
Small wonder he had time to put the makings in her belly, considering where his head always was: scheming and dreaming and adding up columns of figures and charting their course around the country and talking half the night away, too excited even to make love. And though there were ups as well as downs at the beginning, things now were headed in one direction only. It didn't seem to occur to him that they were all washed up. The gaggle of folks they'd picked up was the rout, the survivors who hadn't quite gone over the edge, not the glittering argosy he'd always had in mind. A man with a dream was a madman.
Love. Much worse than money. A giant and a midget who fought and were inseparable. An animal trainer who was convinced a woman lived inside his tiger, the only woman he'd ever wanted. Idly, she wondered if anybody had ever tried fucking a tiger. She'd heard about doing it with cows and sheep and dogs. Probably even with trees, provided you weren't so unlucky as to strike upon a bee hive inside. For all of which, she thought, you'd have to be pretty damn desperate. But a tiger. Even if you could get one to stand still for it, there was something in the nature of a cat that ought to make you a bit leery. You couldn't put your dependence on them. But then the trainer, Sam, was nuts too. Love was too much. It created bizarre obsessions. It was a form of drunkenness and self-abuse. They threatened you with blindness if you twiddled your own organs, or with impotence or insanity. But they should've been smarter than that. Love itself was blind and impotent, insane, and ate the heart away until it was white and leprous and scarred beyond all telling. Never trust it, she thought.
Every once in a while when she needed to feel a little pride in herself, she got dolled up and ran off to have an affair with a truck driver or salesman or drifter who was looking for a little diversion. Men she didn't count on seeing again and usually didn't–or, if she did, the interest had passed. She used to like the thrill in the blood of having a new man, but even that had got old. She didn't trust it anymore, no more than she trusted a greenback. No, neither love nor money had taken her anywhere–just left her here tasting her own blood.
She wanted vaguely to kill somebody, but there wasn't anybody handy and certainly nobody worth the trouble. If it wasn't love and it wasn't money…. The blood was beating in her veins. It went on beating and beating. Blood, sweat and tears–maybe they were real. She found the water running out of her eyes. Real as dirt. Till you were dirt too. They'd discovered America, and what was it but dirt? She looked outside. The dust had blown off and under the blaze of sun the land was cooking into a piece of burnt toast. Maybe she should go out and start digging, see if she could strike oil. Wouldn't that be a humdinger!
Or maybe she should pull herself together and get up and leave like everybody else. She and Dusty had fought and torn at each other, had driven and goaded and disappointed one another nearly as far as human things can go. And now he'd made her taste her own blood, and she was still here. And what if from now on he made a pleasure of beating on her? Or if she stood for it…. It made no sense. And if she left …what would she do? Go wandering through the world, probably, only by herself, waitressing at some cafe or bar. Trying to cadge drinks and lure men home. Even now there'd be snickers behind her back, not to think of the future.
She got up from the table and gave herself to the task of fixing supper: cut up meat and fried it with sliced onions and put in the tomatoes and chili peppers and set the pot on the stove to cook. What with the mechanic and the vet costing an arm and a leg, it might be the crew's last good meal for a while. Every time you took somebody a car or a body it seemed they wanted you to set them up for life. She'd make a big pot of chili that would either tide them over for a couple of days or feed whoever happened to wander in. Once she'd done that, she washed her face and cleaned herself up a little. She was needing company. She'd see what Billy Bigelow was up to.
She could count on him. He'd been with them forever, first as electrician, carpenter, handyman, what-have-you, and now, after the defection of Carnaby the Great, he was featured as Bigelow the Magician. He could pull cards from out of people's pockets and from behind their ears and discover scarves where they hadn't been before. He had mastered appearance and disappearance and seemed to want to climb to ever higher steps of illusion. Though sometimes he would simply take a pile of long thin balloons and blow them up, twist them into dogs and lions and elephants and kangaroos and send them sailing out into the crowd.
She found him sitting on the couch in his trailer reading a Time magazine. Probably months or a year old, since Billy never bought one. But the dates never interested him, it never mattered to him when an event had occurred.
"Dream Girl," he said, "come on in." He was the only person who ever called her that, and it seemed to be the only image he'd ever had of her: up in the air on the high wire. If it were anybody else, she'd be convinced she was being made fun of.
"Been looking at some moon shots they got here. All crust and craters."
"My God, why don't you look out the window? Isn't that desolate enough for you? If you get up and go outside, you could be on part of the moon they haven't discovered yet. The lower part."
"You really think the moon looks like this," he asked.
"If it don't, it's missed a bet." She'd come over to joke a bit, but the direction the conversation was taking her, making her think about where she was, only brought on her irritability. She wished Dusty would come back so she could throw something at him.
"You know what I think?" Billy said, taking off his glasses so he could see her more clearly. "I think they go out and take all those pictures and say it's the moon."
"Why'd they do a thing like that? Besides, you got all those rockets going up and men coming down in capsules and stuff."
"Oh, you could fake that." Billy said, with a snap of the fingers. "No trouble at all. Just take a picture, put it alongside another and say it's the moon."
"What on earth for?"
"Because you got to keep one step ahead of the public. You got to keep them wondering, always in suspense. Otherwise they'd get so bored and dull in their minds they'd turn back into tree frogs. There they'd be, rocking back and forth going mumbledyboo and their eyes would go crossed and their lips would droop and pretty soon they'd be squatting in clusters like fungus, just trying to keep the burner going so life wouldn't go out altogether."
"You got some imagination."
"No, I mean it. That's why you got to have carnivals. Probably they got a secret genius agency somewhere with people that do nothing all day and night but think things up, one leap ahead of the rest of us."
"But all you're talking about is plain lies."
"Of course. What other kind is there? Except some lies are plainer than others. People need them, couldn't get along without them. Think about what people have believed, beginning with the earth being flat. All you have to do is get it into their heads and then they swear it's true."
"But now look," she said. "Nobody really believes you find cards behind their ears."
"They'd like to. And if you could convince them you got some leetle secret, they'd believe that too."
He was always playing these games with himself, and she loved the way he twisted everything around till you didn't know whether you were coming or going. She'd lost all her anger. "Well, if everything can be a lie," she said, "then everything can be true just as well." She hadn't the faintest idea what she meant.
"Because people believe it? Then anything can be the truth, can't it? Like all that stuff about living past lives. That could be true."
"Suppose it is. I can't say it isn't. I can't say people haven't been on the moon."
"The people from the future would be living right now, wouldn't they?"
"And how would you know?"
"Use your head. It's got to follow," he said. "And suppose you could go back to the past and you killed your grandfather, would you be alive now?"
"Of course not," she said offhandedly, even though she knew she was being had.
"But then how could you go back … ?"
"Why weren't you born with two heads?" she wanted to know.
"Then one of you could live in the past and the other in the future and tell each other all about it."
"Probably fall flat on my face," he said, "and the present would go leaking through."
"Through the hole in your head." She stopped, all used up."
"How come you don't leave like the rest?"
"The show must go on," he said.
"Come on," she said. "What show? This flea-bitten, half-assed …"
"I love you, Alta—you have such a high opinion of we serious professionals." She couldn't tell if he were teasing her or making fun of
himself, or maybe both at once. "I'm a magician."
"And an electrician and a carpenter and—"
"A man of parts," he said.
"Is one of 'em a stomach," she asked. "I've got chili cooking."
"Gotcha."
 •
Back in the trailer she stirred the chili, added some oregano and cumin and then sat down to look at the copy of Vogue she'd slipped out of the dentist's office the time she had a toothache in Biloxi.
The sun had really turned on the juice, so she tried to get a little relief by opening the window and turning on the fan. But the flies came in through a tear in the screen and buzzed around her head, and Pansy sat and snapped at them. Now and then she glanced out the window to watch Fred taking care of his horses. He'd taken them out of the trailer one by one and tethered them over by some scrub cedar. He'd brought out hay and water and then had lingered in the heat, grooming them, talking to them, trying to soothe them and make up for a life that offered no explanations, just endless travel, unexpected stops, dust storms, injury and inconvenience—all for the sake of those few triumphant moments in the ring when Ginger, his wife, leapt and danced across their backs.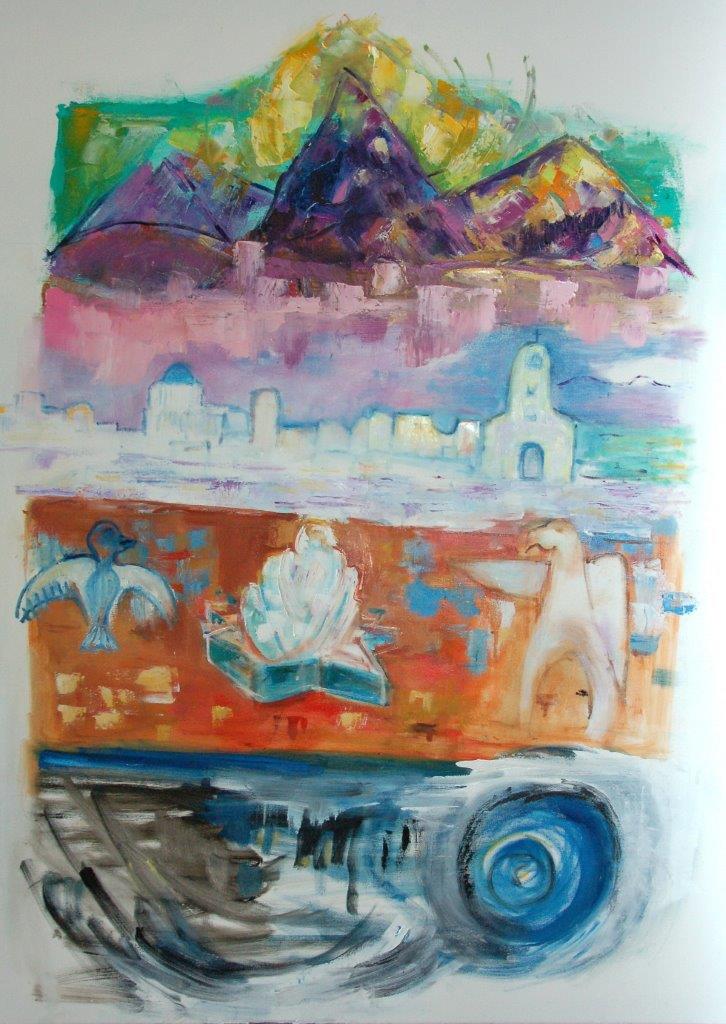 Dream Seekers, Cover Painting, Oil, 3′ x4′, Gladys Swan
Every now and then a car or a truck would come whooshing past with a rush of hot air and a slash of light, then go plummeting on into the distance. She had no idea when Dusty would be back. Maybe he'd just taken off like the others. Then a truck—not his—appeared, slowed and finally stopped across the road from the horse trailer. A lean, wiry man got out, took a leather bag from the seat and walked over to where Fred was working with his horses. The vet. As she watched them, a couple of tow trucks pulled up and parked. A burly man, T-shirt sticking to his chest, sunglasses, got out. Then a tall guy, cap on his head, long arms, big hands. Burt, their equipment man, emerged from the rig and came over to talk to them. Then a lot of backing and maneuvering, hauling of chains and attachments. And after a time they were towing the truck away in the direction of what she supposed was a town, though more than likely nothing more than a mirage. She'd believe it when she saw it. But no Dusty. Then the vet was gone too, and she watched Fred lead the horses back into the trailer. That done, he walked over to the trailer where he lived with Ginger, who leapt from one horse to the other while they raced round the ring, who went up into a handstand or did a flip at the height of their motion, who was beautiful to watch. There was a lightness in her. They deserved better, Alta knew. They were young and, like everybody else who'd been drawn in, had the dream painted in their heads. All full of enthusiasm. Dusty's dream was their dream. She'd seen it happen over and over again. And he wasn't lying when he went on painting the sky in vivid colors. He believed every word of it: it was going to happen. Then, one day, they woke up. He owed them money, like he owed everybody money. Now she knew they were leaving too. She didn't get up to say goodbye, though she and Ginger had sat in each other's trailers and traded intimacies. And Ginger had showed her bruises on her body in places that didn't show. And sometimes she'd wept: Fred was fonder of his horses than he was of her, treated them better. And to tell the truth, she was sick of the smell of horse. Fred always smelled of horse. Alta didn't go over to say goodbye, because chances were they'd come across each other when they least expected it. In this business you were never surprised.
She felt bad about the money, but there was no help for it. If their paths did cross and Dusty were flush, he'd pay off. That's what he said, and she had no reason to doubt him because so far Dusty hadn't had any money. She watched Ginger climb into the cab of the trailer while Fred went back to drive the one with the horses. Then they were gone. Why wasn't she leaving with them? Was one kind of wandering any worse than another?
For a time she sat there blank and empty, all used up. The anger of the morning seemed as far away as last month. She wasn't even waiting for anything. She turned off the chili, then let the evening move in around her. She sat with her dog in her lap. The deepening sky was a rich blue, a mingling of blues, lighter and dark, with a smoky feeling underneath; it came down into the landscape, softening the edges of the mountains, turning brown slopes to lavender, to indigo, to darker shapes yet that made all of it one vast stillness that reached far beyond her, perhaps to the borders of the world. There were only the little lights of the few trailers left: animal trainer, giant and midget, magician-cum-handyman.
That was the carnival now—the scrapings from the pot.
Down to Earth, Cover Painting, Oil, 3′ x4′, Gladys Swan
From out of the indigo she saw headlights approach, then heard a truck pull up and stop. She went outside. Dusty was back, but with somebody with him in the front seat. She bent down, leaning on the side of the truck to look in. A girl. She could just about make her out in the gathering dusk. Though she looked to be no more than seventeen eighteen, she knew everything a woman could know and then some.
"This is Grace," Dusty said, by way of introduction. "Amazing Grace. Wait'll you see what she can do. We'll hit the bigtime yet."
I know what she can do, Alta thought. Amazing, all right. Probably one of those street kids that had left home at twelve or thirteen, soon as their periods started and they had their union card for womanhood. Then they peddled it on every street of Everytown in the great U.S. of A. Double A for Amazing. Then she noticed a childish face in the narrow seat behind Dusty. A boy. But so wild he looked like some creature that had been torn away from the land and still carried in its eyes the reflection of the water hole from which it drank, the snug of the nest where it had spent the night still clinging to the fine white hairs on his arms.
"Does he talk," she suddenly asked.
"The words have gone out of him," the girl said, "but the singing has stayed behind. He knows the ballad of Kitty Moreno and Amigo and the Battle of Glorieta Pass and Indian Joe and his fight with a bear and the loves of Pajarito."
These are barely human things, Alta found herself thinking, for she had learned to recognize such and they were not new to her experience. And here was another set in front of her that she might look at and talk to and never understand. She could ask questions till her teeth rotted and it wouldn't make a ghost of a difference. There they were, almost cringing in the seat of the truck. In the back with the boy, she noticed two crates that looked to be the dimensions of their personal property and inside which something stirred and moved with a vaguely animal and somewhat sinister quality. She didn't ask what.
"You want something to eat," she asked, for she could recognize hunger too, though on what level she couldn't always tell. "I've got a pot of chili on the stove."
They stepped out of the truck, the girl rubbing her arms against the evening chill. Alta saw a square of light as the door of Billy Bigelow's trailer opened. He'd be coming too.
She looked off into the distance before she went inside: over in the mountains it looked as though a storm was brewing up. A sudden flash of lightning and the mountains stood out, every slope and draw outlined in angular crossings of brilliance. If it rains, she thought, it will pick up the dust and the sky will fall down in mud. First they'd nearly been swept away, now it was more than likely they'd be mired down. Or else the water could come tearing down the mountains in a flash flood.
"Come on inside," she said, and went to the stove to put the fire on. Dusty was still fiddling outside in the truck while these two stood uncertainly in the doorway. "You can wash up in there," she said. The boy's eyes went roaming around the trailer as if it would take getting used to. Alta went about setting the table.
Here they were, just another pair among the number she had seen in the procession of all the broken, ill-formed, misbegotten things headed out of the world and onto the road, moving from town to town, never calling any place their own. They were her family, if you could call it that—they were her fate.
She closed the front door. It was getting cold now as night took over the desert. She was closing the door against the night, against the rustle of lizards and the spines of cactus, against whatever shapes lay in the darkness and whatever moved in the silence. Then Billy Bigelow and Dusty came in talking about the day. Only the sound of voices and the smell of chili seemed warm and real.
—Gladys Swan
.
Prior to The Carnival Quintet, Gladys Swan has published two novels and seven collections of short fiction, of which The Tiger's Eye: New & Selected Stories is the most recent. Her poetry and essays have appeared in various magazines. Also a painter, she has done the cover art for several magazines and books by other writers as well as her own. She was the first writer to receive a fellowship for a residency in painting at the Vermont Studio Center. She has taught in the creative writing program at the University of Missouri–Columbia and was a faculty member of the MFA Program in Creative Writing at Vermont College. New Mexico, where she grew up, is the setting for much of her fiction.
.
.
.