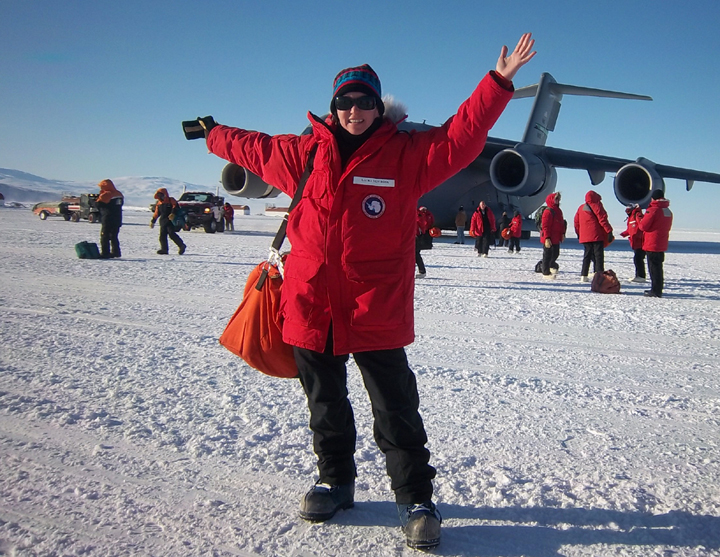 The  intrepid painter/writer/naturalist Laura Von Rosk (see her paintings here on NC) has flown to Antarctica (it's spring there) as part of a scientific team headed by Albany, NY, cell biologist Dr. Samuel Bowser (friend them on Facebook at Bravo! 043 or visit his blog). The team's mission is to dive (under the ice) and conduct studies on the the single-celled organisms known as Foraminifera from a field camp at Explorers Cove, situated at the base of the Taylor Valley, in the Dry Valleys, west of McMurdo Station in Antarctica. It's a great pleasure to be able to publish Laura's early report (dated October 9) and some of her photos. There will be more.
Laura Von Rosk (normally) lives with her dog Molly on a lagoon just outside Schroon Lake, New York. She curates the Courthouse Gallery at the Lake George Arts Project, a gallery dedicated to the experimental and the avant garde. She's an old friend and a wonderful landscape painter.
dg
What it's like living in Antarctica
From Laura Von Rosk
We arrived at McMurdo on Tuesday late afternoon. We have been very busy since, with training, reviewing plans for the season, etc., and just getting adjusted to the new environment. Each night I think I'll get to email – but end up exhausted. Usually in bed by 11 PM, and up around 6 AM.
We weren't sure we would get here on Tuesday because the night before we left Christchurch it was "Condition 1″ [1] at McMurdo.
Today, Sunday, Oct 9th, is Condition 3 – beautiful sunny day, 0 degrees F, -18F wind-chill.
Footnotes
(↵ returns to text)
I pasted the 3 main definitions for weather here:

Condition 3 (nice weather): Winds up to 48 knots, wind chill down to -75 degrees F, and visibility over 1/4th mile. Unrestricted travel and activity are allowed.
Condition 2 (not so nice): Winds 48 to 55 knots, wind chill -75 to -100 degrees F, or visibility 100 feet to 1/4th  mile. Restricted pedestrian traffic only between buildings is allowed. Vehicular travel is allowed in radio equipped, enclosed vehicles only, and check out is required.
Condition 1 (crazy…) Winds over 55 knots, wind chill lower than -100 degrees F, or visibility less than 100 feet. Severe weather is in progress. All personnel must remain in buildings or the nearest shelter.

For a sample of Condition 1 visit this link:
http://xmb.stuffucanuse.com/xmb/viewthread.php?tid=6811↵