.
Numéro Cinq is fighting a guerrilla war against a culture that is determined to forget the beauty, grace and precision of well-written words. In this essay, Anna Maria Johnson goes to the barricades with a lovely meditation on a tiny point—James Agee's unconventional use of colons in his great book Let Us Now Praise Famous Men. A small, small point, but the inspiration is prodigious for beauty of prose (and poetry) begins with attention to small details of correct (or eccentrically creative) technique.
dg
.
James Agee's Unconventional Colons in Let Us Now Praise Famous Men
By Anna Maria Johnson
.
Ernest Hemingway, in a letter to Horace Liveright dated May 22, 1925, advised,  "My attitude toward punctuation is that it ought to be as conventional as possible . . . You ought to be able to show that you can do it a good deal better than anyone else with the regular tools before you have a license to bring in your own improvements."   James Agee, unlike Ernest Hemingway, apparently had no compunction against experimenting with punctuation.  Agee's Let Us Now Praise Famous Men makes both conventional and experimental use of the colon, which appears a grand total of 1,530 times in 424 pages, for an average of ~3.608 colons per page.
Agee's text is most heavily colon-saturated throughout the more experimental portions of the book (those passages most descriptive, lyrical, and expressive), while his more reportage-styled passages (those with direct quotations, facts and figures, literal information, and directly conveyed scenes) use few colons.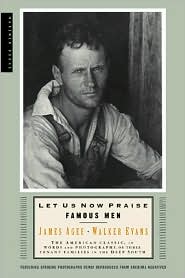 Agee's Use of Colons
In Let Us Now Praise Famous Men, the colon draws attention to itself most when it appears at the end of paragraphs, and when it is used rhetorical purposes rather than according to syntactical sense. Agee was surely aware of his significant reliance on the colon, even titling one section of the book, "Colon," as if the whole section were a thoughtful pause or breath, like the Bible's use of "Selah" in the Psalms.   Agee consistently controls the colon use, using it to different effect in different passages of his book, according to the tone and sense he wishes to convey.
Why did Agee choose to employ the colon so prodigiously in this book, and toward what ends? Let's explore some of the ways, both conventional and experimental, in which he used the colon, and examine why he may have chosen to do so.
Agee often uses the colon in conventionally acceptable ways.  For example, shortly after the Preface, Agee uses the colon conventionally when he lists the "Persons and Places" of the book as if they are a cast of characters for a play ("FRED GARVRIN RICKETTS: a two-mule tenant farmer, aged fifty-four").  In the Table of Contents, colons separate section titles from their subtitles, as in "Part One: A Country Letter" (Agee 2).  He also, in the expected way, places a colon before a list, as when he writes in his Preface of the project's components, "The immediate instruments are two: the motionless camera, and the printed word" (Agee x). Of course, it is allowable to place a colon before a direct quotation, as Agee does on page 13, "By my memory, he [Beethoven] said: 'He who understands my music can never know unhappiness again.' I believe it."  These are inarguably appropriate and conventional instances of colon usage.